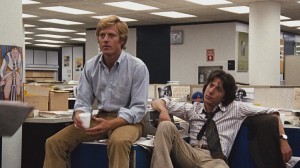 Dette er vel det første året med hele tre westerns? Det vil bli flere.
All the President's Men. En av 70-tallets definitive høydepunkter.
Assault on Precinct 13. Går inn til kjernen av thrillere.
Taxi Driver. Scorseses beste.
Network. Sidney Lumet! Peter Finch!
Mannen på taket. Fantastisk god svensk thriller.
The Shootist. John Waynes rørende exit.
Marathon Man. Erkeengelske Olivier spiller creepy nazi.
The Man Who Fell to Earth. Samme år som Bowie ga ut Station to Station. Multikunstner in persona.
Rocky. Udiskutabel klassiker.
The Outlaw Josey Wales. Eastwoods regigjennombrudd.